Welcome!
WELCOME to Culver Elementary…..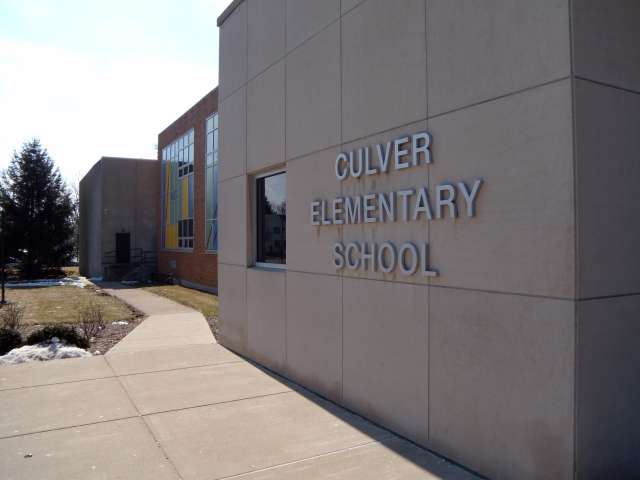 I would like to
welcome you and your child to Culver Elementary School. Our school is full of knowledge, enthusiasm, challenge, creativity, rigor, support and encouragement. Our dedicated teaching staff and support personnel strive to provide for each student's individual needs. We encourage your support and assistance throughout the school year so that your child will have a successful and rewarding year.

We always encourage parents to be a positive partner in your child's education. Make it known to your child that you value education. Let your child see you supporting his or her endeavors here at school by attending programs, volunteering to chaperone field trips, helping out with classroom activities, or most importantly, talking to your child about school and the importance of it.
It is a pleasure to have you as a member of our Culver family. We are looking forward to working with each and every one of you as we embrace the new school year, continue to build on the tradition of academic excellence and provide a positive learning experience.
This upcoming year brings some new and exciting changes to Culver Elementary School. We are pleased to announce a couple new staff members at Culver Elementary School. We have Mrs. Pratt as our new fourth grade teacher replacing Mrs. Miller who left to be a stay at home mommy. We also have Mr. Combs who replaced Mrs. Smith our long time Kindergarten teacher and recent music teacher. We wish her the best at her new school. We are also excited to announce our new first/second split class taught by Mrs. Elliott and our new fourth/fifth split class taught by Mrs. Renneker, which will advance those students who are in need of more unique and challenging academic experiences.
We are also very excited to announce that our new Preschool program will be starting on August 7th as well. We will have two classrooms, each with a full time teacher and teacher's assistant. We are proud to announce that Miss Bailey has taken on the role of Preschool teacher. She holds a preschool and special education license and has a background of working with students at the Lighthouse Center in Plymouth. Our second teacher is Mrs. Falk, whom we are very proud, has accepted a position in our building. She holds a preschool license as well as many years of experience as she running her own preschool. The two new aides who will be joining this program are Laura Garza and Alison Neace, both coming to us with combined over 20 years of experience in childcare and special education.
We can't wait to see you on August 6th from 6:00-8:00. Bring in your student's school supplies and meet the teachers! Our wonderful PTO will also be having an ice cream social for the kids during Back to School Night!!
Best wishes for a successful year!!!
With Culver Pride,
Erin Proskey
Culver Elementary Principal
At Culver Elementary, We….
C are
about providing a safe school atmosphere for all students, staff and
families that is warm, caring, and challenging.
U nderstand
that all students, staff an community members are partners in
providing a positive and respectful learning environment.
L ive
each day believing that every student can learn and achieve.
V alue
moral character development, positive attitudes, and teamwork for
all students and staff.
E ncourage
and model respect, courtesy, self discipline, and concern for
everyone.
R evere
education, lifelong learning, and excellence in academics, the arts,
athletics, and life skills.